Commercial Kitchen Equipment Manufacturers in Lucknow, Uttar Pradesh!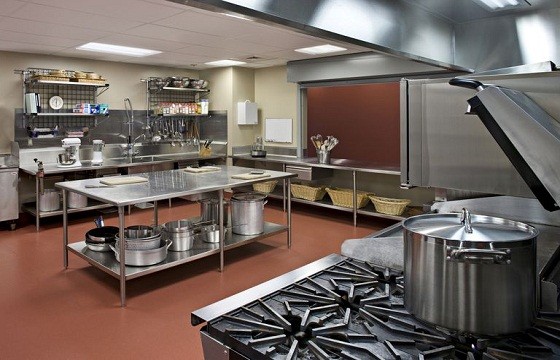 Are you in the foodservice industry in Lucknow, India, and looking for reliable commercial kitchen equipment? Look no further! Glory Kitchens, a leading commercial kitchen equipment manufacturer, is here to meet all your needs. With a wide range of high-quality kitchen equipment and exceptional customer service, Glory Kitchens has become a trusted name in the industry. Based in Lucknow, Glory Kitchens has been serving the hospitality and foodservice industry for years, providing top-of-the-line commercial kitchen equipment to hotels, restaurants, cafes, canteens, and other commercial kitchens. The company has established a strong reputation for its reliable products, innovative designs, and excellent after-sales support.
One of the key factors that sets Glory Kitchens apart from other commercial kitchen equipment manufacturers in Lucknow is its commitment to quality. The company uses premium materials and advanced manufacturing processes to ensure that its products are durable, efficient, and long-lasting. All Glory Kitchens equipment undergoes rigorous quality control checks to meet industry standards and ensure customer satisfaction.
Glory Kitchens offers a wide range of commercial kitchen equipment, including cooking equipment, refrigeration equipment, food preparation equipment, dishwashing equipment, and more. From gas and electric ranges to griddles, fryers, ovens, and tandoors, Glory Kitchens has everything you need to set up a fully functional and efficient commercial kitchen.
The company also specializes in customizing kitchen equipment to meet specific requirements. Whether you need a customized stainless steel work table, a custom-sized refrigerator, or a specialized cooking equipment setup, Glory Kitchens can design and manufacture it to your specifications. Their team of experienced engineers and designers work closely with clients to understand their unique needs and provide tailor-made solutions.
Another notable aspect of Glory Kitchens is its commitment to customer service. The company believes in building long-term relationships with its customers and providing exceptional support throughout the entire process, from initial consultation to installation and maintenance. Their team of skilled technicians provides prompt and reliable after-sales service, ensuring that your commercial kitchen equipment is always in optimal working condition.
In addition to its commitment to quality and customer service, Glory Kitchens also places a strong emphasis on innovation. The company continually invests in research and development to introduce new and improved kitchen equipment that incorporates the latest technological advancements. This ensures that their products are at the forefront of the industry, offering the most efficient and advanced features to enhance the performance of your commercial kitchen.
Glory Kitchens takes sustainability seriously and strives to minimize its environmental impact. The company uses energy-efficient manufacturing processes, sources eco-friendly materials, and designs products that are built to last, reducing waste and promoting sustainability in the foodservice industry.
If you are in need of reliable commercial kitchen equipment in Lucknow, look no further than Glory Kitchens. With their wide range of high-quality products, customized solutions, commitment to quality and customer service, and focus on innovation and sustainability, Glory Kitchens has earned its reputation as a leading commercial kitchen equipment manufacturer in the region. Trust them to provide you with the best equipment for your commercial kitchen needs, and experience the difference in performance and efficiency. Contact Glory Kitchens today and elevate your culinary operations to new heights!
Why Choose Glory Kitchens?
We understand that choosing the right commercial kitchen equipment is essential for the success of your culinary business. Here are some reasons why you should choose Glory Kitchens as your trusted partner for all your kitchen equipment needs:
Extensive Product Range:
Our online store features an extensive range of
commercial kitchen equipment
, including
cooking appliances
,
refrigeration units
,
food prep equipment
,
ventilation systems
,
dishwashers
, and more. We offer a wide selection of products from reputable brands, ensuring that you can find the perfect equipment to suit your specific requirements.
Quality Assurance:
We take pride in offering only the highest quality commercial kitchen equipment. Our products are sourced from trusted manufacturers known for their durability, reliability, and performance. We understand that commercial kitchens demand equipment that can withstand heavy use, and our products are built to meet those demands, delivering consistent results and lasting durability.
Expert Advice:
Our team of experienced professionals is here to assist you in finding the right commercial kitchen equipment for your unique needs. We understand that every kitchen is different, and we take the time to understand your requirements, provide product recommendations, and offer expert advice to help you make informed decisions. From product specifications to technical details, our team is dedicated to providing you with the support you need.


Competitive Prices:
We offer competitive prices on all our commercial kitchen equipment without compromising on quality. We understand the importance of budget considerations for businesses, and we strive to provide you with the best value for your investment. Our transparent pricing ensures that you can shop with confidence, knowing that you are getting premium equipment at affordable prices.


Convenient Shopping:
Shopping with Glory Kitchens is easy and convenient. Our user-friendly website allows you to browse our extensive product catalog, compare options, and make secure online purchases from the comfort of your home or office. We also offer fast and reliable shipping options to get your equipment delivered to your doorstep in Lucknow and surrounding areas.


Trusted Reputation:
Glory Kitchens has built a reputation as a trusted partner for commercial kitchen equipment in Lucknow and beyond. We have served numerous satisfied customers, including restaurants, hotels, cafes, bakeries, and other foodservice establishments, earning their trust with our reliable products and exceptional service. When you choose Glory Kitchens, you can shop with confidence knowing that you are dealing with a reputable and reliable supplier.